Behind the Scenes of the Eurovision song contest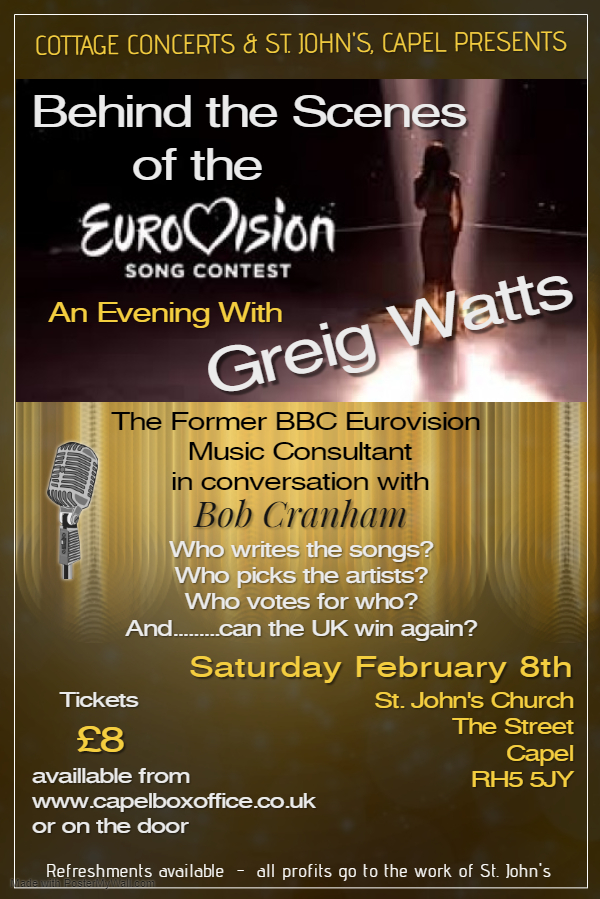 St John the Baptist, Capel
Greig Watts is one third of the UK based song writing, production and publishing team DWB where, in addition to his lyric and melody skills he also heads up the World-Wide Publishing.   This involves managing many other writers who between them have written songs with over
60 Million sales.
Over the past few years, Greig has hosted many successful International song writing camps.
After overseeing 6 Eurovision entries in 4 years, as well as
25 National finalists during that period, Greig was appointed the Music Consultant for Eurovision for the BBC for 2019, with Michael Rice and "Bigger Than Us' being picked to represent the UK in Israel.
Among Greig's Eurovision successes over the past few years are:
Kasia Mos – Flashlight (Eurovision Poland Entry 2017)
Martina Barta – My Turn (Czech Eurovision Entry 2017)
22 – Sarah McTernan – Irish eurovision 2019
Stay – Anna (Moldovan Eurovision 2019)
Light Me Up – Gromee featuring Lukas Meijer (Polish Eurovision 2018)
3 Songs in UK You Decide Final 2019
4 Songs in UK You Decide Final 2018
Icebreaker – Agnete (Norwegian Eurovision entry 2016)
Online ticket sales for this event are closed.